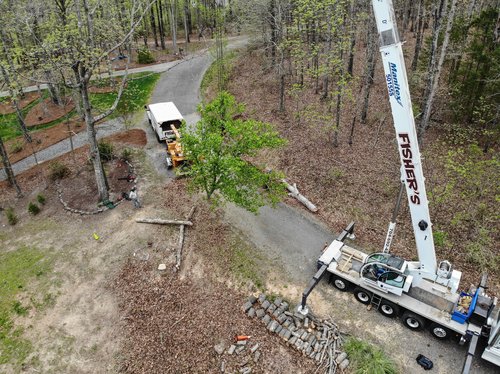 Preserving the beauty of your home's landscape is our goal, so when we perform our craft, we make sure to respect every aspect of your tree's surroundings.
Our full list of services includes:
Tree Removal
Selective Pruning
View Enhancement
Planting & Mulching
Cabling & Bracing
24-Hour Storm Work
Stump Grinding
Technical Tree Removal
Our ultimate goal is to preserve the health and life of trees whenever possible, so we don't often resort to tree removal. However, when it becomes necessary, our certified arborists can help determine if a tree is hazardous and needs to be removed from your property.
Some common reasons for tree removal include:
Tree is dead or dying
Tree has been damaged by a storm
Tree is crowding out other trees, or causing them harm
Tree is blocking the way of future construction
In the event that a tree does need to be removed, our experienced personnel will safely remove it, even in the most difficult conditions. We offer specialized crane services, and have the ability to remove large trees without disturbing a single blade of grass on your property.
Selective Tree Pruning & Canopy Reduction
In many cases, trees can be treated or trimmed to avoid having to remove them. Pruning is the most common tree maintenance procedure. While forest trees grow quite well without professional pruning, landscape trees require a higher level of care to maintain their safety and aesthetic.
Pruning should be done with an understanding of how the tree responds to each cut. Improper pruning can damage the tree, result in unfortunate growth patterns, or even shorten its life. If you want to prune your tree, it's best to hire our professional arborists to assess the situation and perform your cuts for you.
Commercial Crane Services Offered
Our certified crane operators have the expertise to assess any given area and determine the safest way to complete the task. Our operators have lifted AC units for heating & Air companies, large compressors, wood or metal trusses for new construction of homes & buildings. Assisted with the construction and deconstruction of church steeples and offloaded and set temporary offices for upcoming commercial or construction sites.
We currently offer two different size cranes:
50 ton Manitex Stick boom crane.
29 ton Articulating boom with grapple saw attachment.
View Enhancement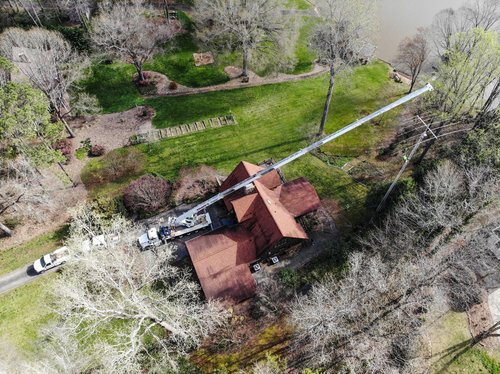 Most property owners in the foothills want to maximize their view of the lake, mountains, and rivers that surround them to make the most of their location.
We can help you with any selective pruning that you may want to perform to enhance the views on your property.
Planting and Mulching
When it comes to tree and shrub planting, knowing what tree to plant – and how and where to plant it – can make all of the difference. Our arborists work with clients to plant species that will thrive in their landscapes, factoring in local climates, soil conditions, and short- and long-term property goals.
With our assistance, you can develop your property into the beautiful, eye-catching garden you see in your mind's eye, and also maintain the health and lifespan of both your new and existing plants.
Cabling & Bracing
Cabling and bracing are the two most common forms of structural support for trees. We install flexible cables or rigid rods to reduce the chances of failure of defective unions.
Cables are installed high in the tree, at least two-thirds of the distance from the defect to the crown. Rods can be installed both above and below defects, and are always assisted by cables. Cabling and bracing support systems should only be installed based on a thorough inspection and evaluation of tree structure by our Certified Arborists. Homeowners with trees that have a cabling/bracing system can contact Fisher's Tree Service to inspect the affected trees periodically.
24-Hour Storm Work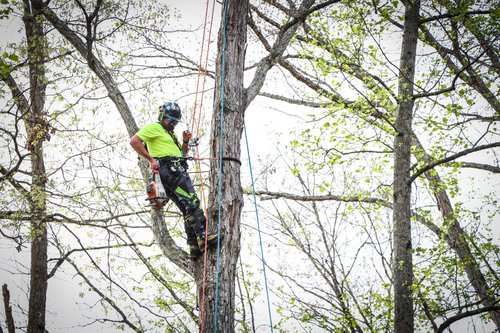 We offer 24-hour emergency services, and can come out quickly to survey the damage to your property. Our crews are always on standby, and are prepared to safely remove trees or debris from your home or structure without creating further damage. After the debris is removed, we can help get your house or structure patched up to prevent water damage and electrical or fire hazards until other professionals can step in. Often times, if you have insurance, the insurance company will pay for the damage to your home as well as the tree removal services we provide.
Stump Grinding
Fisher's Tree Service offers reliable and affordable services for any size stump removal. With our top-of-the-line stump grinding machines, we can remove unsightly stumps from anywhere on your property. Whether you need one stump removed or a dozen, our experienced staff will get the job done for you.
Our efficient stump grinding techniques are the most effective method of removing the stump; leaving the area ready for the next steps of landscaping, replanting, or construction.